HondaLink Connect Features, Apps, Service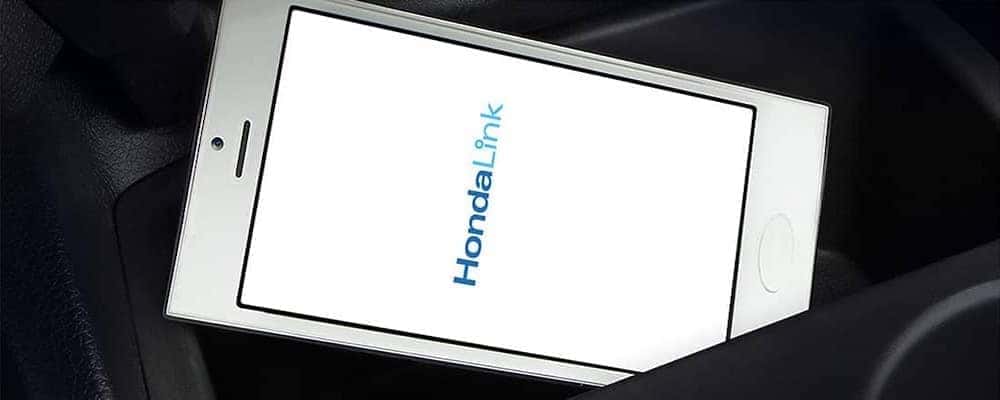 Connect your HondaLink compatible phones to your Honda for easy access to music, maps, social media, and more. You can also make use of helpful HondaLink apps, including HondaLink Navigation and HondaLink Aha. Learn more about what HondaLink can do below!
What Can HondaLink Connect Do?
HondaLink helps you stay current on Honda service, and it also helps you with everyday tasks you may need. Here's a sampling of what you can do with HondaLink Connect:
Lock/unlock doors and start your car remotely
Check the weather
Get parking reminders
Get more information about your destination
Read messages from Honda
Request roadside assistance
View Maintenance Minder
Read the owner's manual for your car
Find points of interest near you
Schedule Regular Honda Maintenance with HondaLink Connect
You can even schedule Honda maintenance or repairs with HondaLink. All you have to do is select "Services," and then "Schedule Service." Then, you can search for Honda dealers near Arvada or Aurora, select the services you need, enter your contact info, and choose your preferred date and time. Stay up to date on your Honda maintenance schedule with HondaLink.
How to Set Up HondaLink Connect
Connecting to the HondaLink App can be done in 5 simple steps.
Download HondaLink to your phone
Open the app and choose "Settings"
Select "Manage Vehicles"
Hit "Add Vehicle"
Input the VIN number
Simple! You car is now connected to HondaLink.
Which Honda Vehicles Have HondaLink?
HondaLink is available for the following vehicles:
2019 Pilot
2019 Fit
2019 HR-V
2019 Insight
2019 Odyssey
2019 Ridgeline
2019 Accord
2019 Civic
2019 CR-V
2018 Clarity
Shop HondaLink Enabled Models in Boulder
Explore HondaLink Connect at Fisher Honda
Visit us at Fisher Honda to try out the many features of the HondaLink app for yourself. Schedule a test drive at Fisher Honda in Boulder, we'll help you get inside the Honda Odyssey — or any other model you're interested in — with the latest conveniences and technologies, such as HondaLink and Honda Sensing.
More Tips from Fisher Honda
What is HondaLink? The HondaLink first generation system is a connectivity suite that lets you access your favorite smartphone apps from inside your Honda Odyssey or other Honda model. Using the infotainment system's screen, you can browse your phonebook, place hands-free calls, and stream music. What's more? HondaLink is an app-based suite. This means you can…

Wondering why you are being asked to enter radio codes into your Honda Accord radio — and how to even enter those codes? Here's the lowdown: When you change the battery, your Honda Accord's radio will automatically ask for the codes to reactivate the radio. Good news is, this can be resolved by holding…