How Often to Rotate Your Tires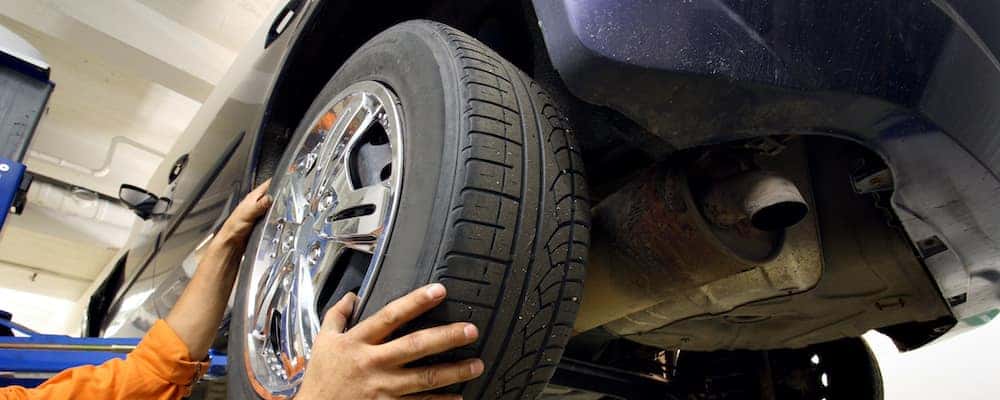 You should schedule a tire rotation every 5,000 to 7,500 miles of driving, in general. However, this metric varies with the type of vehicle you drive and the conditions you drive it in. With winter and mountain conditions in our Boulder area, you may want to schedule a check-up more often than that to see if you need a rotation. At Fisher Honda, we'll perform an inspection to see if you're due for a rotation and get your tires fixed up so you can stay safe on the road. Tires need a rotation when the tread variance exceeds 2/32 of an inch — read on to learn more variables that influence how often you should get your tires rotated.
Tire Rotations in FWD Vehicles vs. RWD Vehicles
Front-wheel and rear-wheel drive vehicles differ in where the engine sends its power. Front-wheel drive cars send it to the front tires, while rear-wheel drive cars it send it to the rear tires. This influences tire rotations because the set of tires getting the bulk of the engine power will wear faster than the others.
How Often to Rotate Tires in FWD Vehicles and RWD Vehicles
Tire rotation needs to be performed every 5,000 to 7,500 miles for both FWD and RWD vehicles. However, again, this will vary slightly with your driving habits and driving conditions. Be sure to consult your owner's manual for exact figures. Talk with the service experts at Fisher Honda to get a better idea of a maintenance schedule that fits your driving habits.
Performing FWD Tire Rotation
If you're a committed DIY-er and performing a FWD tire rotation yourself, flip sides when moving the rear tires to the front. For example, the rear right tire will go on the front left. When moving the front tires to the back, keep them on the same side.
Performing RWD Tire Rotation
If you're rotating the tires on a RWD car, invert the process above. Change sides when moving the front tires to the back, but keep the rear tires on the same side when you move them forward.
All-Wheel Drive Tire Rotation
With AWD vehicles, each tire wears differently and at different speeds. At the very least, you should schedule tire rotation every 3,000 to 5,000 miles for an AWD vehicle. Always check your owner's manual for exact numbers for your specific vehicle, though.
Why Tire Rotations are Important
Tire rotation extends the life of your tires, of course, but regular tire rotation gives your vehicle additional benefits:
Improved traction on slippery and hilly roads
Less noise on the road
Relieves unnecessary stress on the drivetrain
More from Fisher Honda
For any information regarding tire care, contact us today. Our certified technicians are always standing by to help answer your questions regarding all of your regular Honda maintenance, including oil changes and spark plug replacement.
---
Honda Maintenance Coupons Boulder
We are currently updating our Specials. Please check back soon.
More Car Maintenance Tips From Fisher Honda
Your Honda Civic's Engine Oil Indicator percent is still low, even though you just changed the oil? Don't fear — all you need to do is reset the Honda Civic oil light! Here are the steps you'll take to reset your oil light on your newer Honda Civic model: Turn on the ignition (one position…

Winter is coming, and you know what that means: snow. Lots and lots of snow. While the weather in Colorado can be intimidating, you can be prepared for what's coming and enjoy the season rather than dreading that next storm if you take a few steps now before it gets here. Get a Vehicle Check-Up…

Chat With Service Wondering why you are being asked to enter radio codes into your Honda Accord radio — and how to even enter those codes? Here's the lowdown: When you change the battery, your Honda Accord's radio will automatically ask for the codes to reactivate the radio. Good news is, this can be…