Maintenance Schedule for 2003-2005 Honda Element
In order to keep your 2003-2005 Honda Element running strong, and to get the most years out of your vehicle, following the factory-recommended maintenance schedule is a must.Performing the various maintenance items at the recommended time will help prevent problems before they occur, saving you time, money, and hassle. Additionally, following these schedules will help keep your manufacturer's warranty intact for the life of the warranty.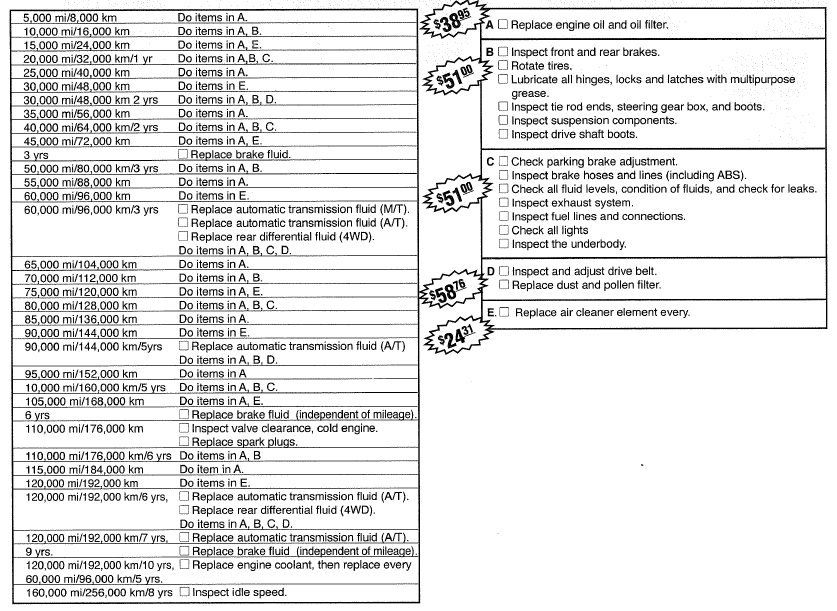 ADDITIONAL SERVICES
• 15K, 30K, 45K, 60K, 75K, 90K, Alignment……………… 2 WHL $79.95… 4 WHL $99.95
• Replace Automatic Transmission Fluid……………………………………………………. $93.75
• Replace Brake Fluid…………………………………………………………….. $115.95
• Adjust Valves……………………………………………………………………… $184.95
• Replace Engine Coolant……………………………………………………….. $115.95
TAX NOT INCLUDED
Why Service at Fisher Honda?
In addition to receiving the best treatment by our service advisors, and the piece of mind that your vehicle is in the hands of factory-trained technicians, there are several added bonuses of servicing at Fisher, including:
Convenient work stations with FREE Wi-Fi

Kids' play room
A nearby trail, with loaner bikes!
Free shuttle-service within a 15-mile radius of the dealership
Coffee station
Satellite TV in service lounge
Night-drop for convenience.
To learn more about the Fisher family, please click here.
Service Department at Fisher Honda in Boulder, CO
If you have any questions or concerns about the recommended maintenance schedule for your 2003-2005 Honda Element, our service advisors would be happy to assist you. You can contact them directly by calling 303-647-4913. To schedule an appointment with our Fisher Honda Service Department, click here. Our hours and location are on the right side of this page. If you'd like to send us a quick message or question, please fill out the form below.