How Do You Check Your Transmission Fluid Level?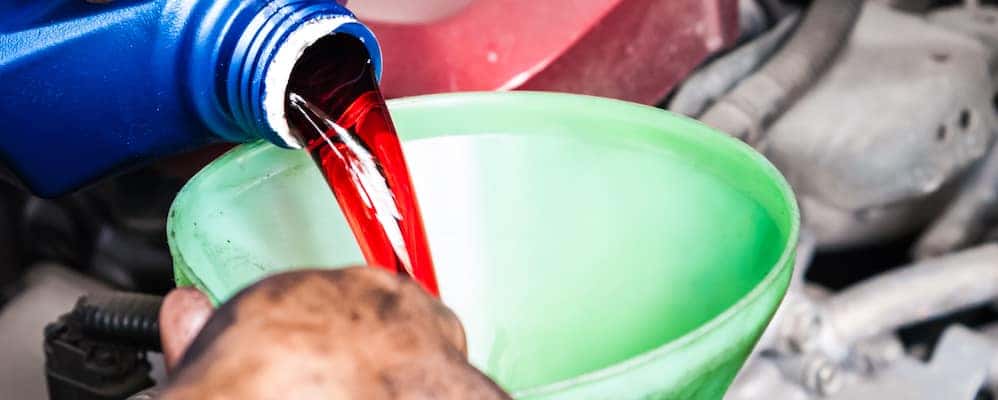 Check your transmission fluid on a regular basis to help prevent maintenance issues before they become serious. Here's how:
Turn the car on. The engine should be warmed up before you check the transmission level.
Find the transmission fluid dipstick. It's usually located to the right of the oil dipstick, but check your owner's manual if you're having trouble finding it.
Remove the dipstick and touch the fluid, moving it around between your thumb and forefinger. The fluid should be nearly clear, with a pink hue. If it looks dirty or gives off a burnt smell, you'll need a replacement at a Boulder area service center.
Use a rag to wipe off the dipstick, and then insert it back into the vehicle.
Pull out the dipstick again and check the level. If the fluid is under the "Full" marking, you'll need to add more to your vehicle.
Pour the fluid in a funnel to to bring it up to full. Be careful not to overfill it!
If you run into any issues with your transmission fluid, get in touch with Fisher Honda, providing maintenance to customers from Denver and beyond.
How Often Should You Check Your Transmission Fluid?
Check the main fluid levels of your car monthly — this includes your transmission fluid, power steering fluid, and engine oil. Moreover, you should replace your transmission fluid every 50,000 to 100,000 miles. This depends on your driving habits, type of transmission, and other factors — like the conditions you drive in. Consult your owner's manual, as always, for a more specific maintenance schedule.
Transmission Fluid FAQs
Your transmission is one of the most complex and important parts of your vehicle. There are some transmission fluid basics you should know to make sure you're keeping your vehicle in good shape.
Is Transmission Fluid the Same for Every Vehicle?
Not all transmission fluid is the same. There are different types for more modern models, manual transmissions, and automatic transmissions. If you're not sure which transmission you have, check your owner's manual, or consult with our service technicians.
How Do I Check Transmission Fluid on a Manual Transmission?
Checking transmission fluid on a manual transmission vehicle usually requires a jack because you need to access a plug located beneath the car. For most Aurora area drivers, a visit to our car maintenance center is more convenient.
What are Signs that My Transmission Fluid is Too Low?
If your vehicle is hesitating before shifting gears, it might be due to low transmission fluid. However, this could also be the sign of a more serious problem. Check your fluid level first, but if it's at a good level, you should schedule a car maintenance appointment so we can inspect your vehicle.
More from Fisher Honda
We can help with any questions you have about vehicle service or maintenance. Contact our service center at (303) 998-6215 or stop by our showroom near Arvada.
---
Service Specials at Fisher Honda
We are currently updating our Specials. Please check back soon.
More Service Tips From Fisher Honda
Your Honda Civic's Engine Oil Indicator percent is still low, even though you just changed the oil? Don't fear — all you need to do is reset the Honda Civic oil light! Here are the steps you'll take to reset your oil light on your newer Honda Civic model: Turn on the ignition (one position…

Winter is coming, and you know what that means: snow. Lots and lots of snow. While the weather in Colorado can be intimidating, you can be prepared for what's coming and enjoy the season rather than dreading that next storm if you take a few steps now before it gets here. Get a Vehicle Check-Up…

Wondering why you are being asked to enter radio codes into your Honda Accord radio — and how to even enter those codes? Here's the lowdown: When you change the battery, your Honda Accord's radio will automatically ask for the codes to reactivate the radio. Good news is, this can be resolved by holding…